Partnership
RELTEX TAKES ACTION
TO PROMOTE
THE WAYS OF ST JAMES

RELTEX and ACIR Compostelle have built a close working relationship based on:
The realisation of our shared cultural values;
The alchemy of the process whereby LACTAE HEVEA soles are made, which draws on the values of harmony, serenity, contemplation and discovery, values we share with the wayfarers and pilgrims who travelled along the cultural and spiritual routes to Santiago di Compostela;
Our commitment to quality in our respective processes: the listing of RELTEX on the UNESCO's Inventory of Rare Art and Craft Professions on the one hand, and ACIR's commitment to rigour, openness, quality and a humanistic approach on the other;
The certification of RELTEX: ENTREPRISE DU PATRIMOINE VIVANT (LIVING HERITAGE COMPANY), connecting reality and the human adventure, which breathes new life into these memorial paths through walking.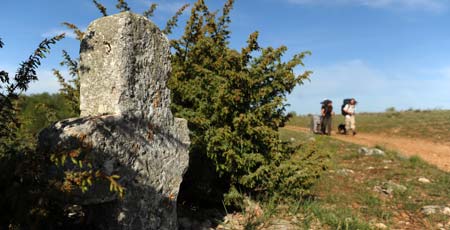 These ancient pilgrimage roads criss-cross the continent of Europe. As part of our medieval heritage, these itineraries have been recognised by two prestigious international cultural schemes:
They were proclaimed a European Cultural Route by the Council of Europe in 1987;
They were added to the List of World Heritage Sites by UNESCO in 1998 (cultural asset no. 868).
For over 20 years, this medieval heritage has been given a new lease of life by walkers. Men and women from varied backgrounds, with a variety of motivations, religious or otherwise, Christian or otherwise, of over 90 nationalities, have been travelling around the rural areas of the old European continent. By walking along the same route as the medieval pilgrims, they display a desire to meet and share with others, a need for rest and recuperation, and a sense of curiosity about heritage and history. They come here to dream as they follow in the pilgrims' footsteps…